How to combat Blue Monday in 2023
09 Jan 2023
As well as new year resolutions and new year sales, January is synonymous with Blue Monday…but what is Blue Monday?
Here's everything you need to know about the so-called most depressing day of the year and some suggestions which could help protect your mental health, employee wellness, and job satisfaction in 2023 and beyond.
When is Blue Monday in 2023?
Blue Monday falls on the third Monday of January each year. In 2023, Blue Monday will take place on Monday 16 January.
What is Blue Monday?
Blue Monday has been dubbed the most depressing day of the year.
January, in general, is a time when the cold weather, lack of daylight, and general post-Christmas slump can lead to many people feeling down and lacking in motivation, which can cause low employee engagement.
Yet, the third Monday of January, aka Blue Monday, is said to be when a number of factors combine to create maximum blueness and increase the likelihood of a low mood.
Where did Blue Monday originate from?
The concept of Blue Monday originated in a 2005 press release for UK-based travel firm, Sky Travel.
They asked a psychologist, Cliff Arnall, to come up with a formula for the January blues, which they used to promote their holidays. The formula included the following factors:
Weather
Debt
Monthly salary
Time since Christmas
Time since failing our new year's resolutions
Low motivation levels
The feeling of a need to take action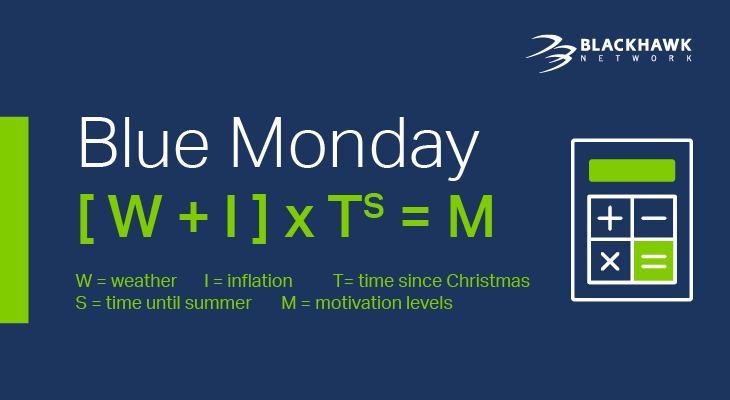 According to the Evening Standard, the original release stated that the formula "allows us to work out the day with the highest 'depression factor' which you can then use as a focus for making things better, booking your holiday, etc.".
Arnall told the Daily Telegraph at the time, "I was originally asked to come up with what I thought was the best day to book a summer holiday when I started thinking about the motives for booking a holiday, reflecting on what thousands had told me during stress management or happiness workshops, there were these factors that pointed to the third Monday in January as being particularly depressing." Hence the term Blue Monday came about.
Is Blue Monday really blue?
In the years since coining the phrase, Cliff Arnall has encouraged people to refute the notion of Blue Monday.
Rather than highlighting reasons to feel down, Arnall has said that the phrase was a call to action to inspire people to make bold life decisions.
Speaking to the Independent, Arnall said that the depressing sentiment of Blue Monday was never his intention. "Whether embarking on a new career, meeting new friends, taking up a new hobby or booking a new adventure, January is actually a great time to make those big decisions for the year ahead."
A number of people have also highlighted that there is no scientific evidence to prove Blue Monday is the worst day for depression.
Writing in the Guardian, Dr Dean Burnett, a tutor at Cardiff University's division of psychological medicine and clinical neurosciences, said that it is "extremely unlikely (i.e. impossible) is that there is a reliable set of external factors that cause depression in an entire population at the same time every year."
"I can understand why people would feel down in January," agrees Dr Philip Clarke, a lecturer in psychology at the University of Derby. "You've just come off Christmas – spending a lot of time with family, overindulging and it's a lot darker outside. The key thing to remember is that Blue Monday isn't scientifically proven."
What can you do to motivate yourself – and others – on Blue Monday?
One benefit to come from the Blue Monday phenomenon is that it's started a conversation about depression and anxiety.
"What we can take from Blue Monday is that we all have mental health and that there are steps we can take all year round to protect it," says Isabella Goldie, Director at the Mental Health Foundation. "This is an ongoing challenge, as it's important that we all do more to self-care for our mental health in the way we look after our physical health, without stressing about it."
So, here are some things you can implement to help protect your mental wellbeing – and take care of those around you – on Blue Monday, or any day of the year.
Be aware of seasonal variations in mental health
The Mental Health Foundation advises that there can be seasonal variations in our mental health with 'good and bad' days being individual to each of us.
For example, some people are affected by Seasonal Affective Disorder (SAD), which is a type of depression experienced during particular times of the year. Symptoms vary from person to person but can include a lack of energy, feeling sad or anxious, sleeping too much or too little, and changes to your appetite.
It is thought that SAD in winter months may be linked to shorter daylight hours, according to the NHS. Research has shown that SAD during the winter months causes one in five British workers to call in sick, which equates to 9.6 million lost working days.
To combat this, it is recommended that you try and get as much natural sunlight as possible by spending time outdoors or sitting close to windows. Another popular treatment is light therapy, which involves spending between 30 minutes and an hour next to a light box each morning. The NHS reports that this can help improve mood considerably.
Combat the Monday blues
A study into job satisfaction and job stressors across the workweek found that employees like their jobs less, experience more stress, and are more sensitive to stress at the start of the week.
To help employees combat the Monday blues, the authors of the study recommended that organisational leaders, and those in charge of employee wellness programmes, schedule employee wellness and recovery activities earlier in the week and announce stress-inducing changes (such as new policies that require considerably more effort) closer to the weekend.
Reward your employees
A spontaneous reward is a great way to show employees that you appreciate and care about them and is a great way of lifting their spirits in the gloomier months. Our own research found that 77% of employees would work harder if they felt better recognised.
Plus, simply knowing that rewards are available can lead to greater feelings of happiness as research shows that anticipating something can help you stay positive.
Whether you opt to recognise employees with a thank you letter or gift card it could have a positive effect on their wellbeing and be a great way to overcome the January blues.
Turn Blue Monday into Charity Monday
A number of charities have put a positive spin on Blue Monday in 2023 and are encouraging people to get involved with their fun initiatives.
The Samaritans, for example, are encouraging people to "stop this myth about Monday being 'blue' and instead start a conversation over a brew!"
Instead of Blue Monday, they've christened 16th January as 'Brew Monday' – a time to "reach out for a cuppa and a catch-up with the people you care about." You can find out more here.
The MS Trust is inviting people to make a positive difference for those affected by multiple sclerosis by being Bold in Blue on Blue Monday.
The website lists a number of ways of getting your Blue On and fundraising for the great cause. This includes hosting a Be Bold In Blue brew and bickie morning, organising a Be Bold In Blue quiz night, and even dyeing your hair blue. Discover more information here.
Increase your endorphins with exercise
Dr Philip Clarke, describes exercise as "a fantastic thing people can be doing as it releases happy endorphins and chemicals," whilst maintaining that "It doesn't have to be exercise in the gym because that can be off-putting for some people. It's just about increasing your physical activity."
Research has shown that physical activity can help boost mental health in the following ways:
Happier moods
Better sleep
Managing stress
Reducing the risk of depression
In fact, outdoor exercise can be as effective as antidepressants in treating depression, according to Stephen Buckley, head of information at mental health charity Mind.
If you, or someone you know, is new to exercise and not sure where to start, Mind's Get Active, Feel Good web page is a great resource for discovering how to get active and stay active, whilst looking after your mental health.
Give thanks
'Thank you' is a short but powerful phrase. Whether it's in person, by email, or via a letter, saying thank you to a friend, colleague, or even yourself can make you happier.
Positive psychology research has shown that gratitude can help people feel more positive emotions, improve their health, relish good experiences, deal with adversity, and build strong relationships.
Take a break
Did you know that 73% of UK office workers never take a full one-hour lunch break? The average employee spends just 29 minutes away from their desk.
Yet time away from your desk at work can increase energy levels, decrease exhaustion, reduce or prevent stress, and help to maintain performance throughout the day.
So, be sure to take time out for yourself each lunchtime and encourage others to do the same. A short walk outdoors is also a great way to get active and top up your exposure to natural sunlight.
Beat the blues with colourful clothes
The colours you wear can boost your mood, behaviour, and stress levels, according to research. They can even change the way people respond to you.
While there are no hard and fast rules, colour psychology suggests that yellow suggests happiness, optimism, and youth; orange indicates energy, fun, and warmth; and black represents power, mystery, and professionalism. Start the year off by daring to wear a bold colour and encourage others to do the same. Find out more about the power of colour here.
Reach out for help
If you (or someone close to you) are affected by the topics mentioned in this blog, there are a number of resources immediately available:
To help keep your employees motivated all year round, we can help with your employee reward system. To find out more – and discover the Blackhawk Network difference – get in touch on 020 4517 5862.